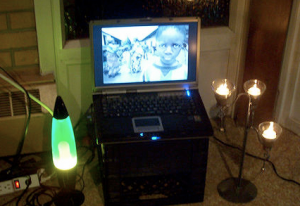 9:00 am Registration Open. Name Tag. Folder. Cuppa Joe.
10:00 am 'Media Morning Prayers'
10:20 am Welcome and Announcements
10:30 am Discussion in Quads (15 min). What is happening in your congregation with Media? Discuss the questions on the screen. + What questions do you have about media and want to share?
10:45 am A Theology of Media? 'How does the power of media relate to the mission of God and the work of the church.
11:15 am Facing and taming the 'Face-beast' (Facebook).
11:45 am LUNCH BRING YOUR OWN (or go out to a quick local restaurant)
12:45 pm Navigating the Googles-phere (Docs, Analytics, Calendar, Ads)
1:00 pm Understanding your Online Profile and Theology (your Website)
1:45 pm HTML Newsletter Clients/Mail Chimp/Constant Contact and WordPress blog and website platform
2:30 pm Break
2:45 pm It's a brand New 'Twitterverse' Broadcasting & Narrowcasting in the Media Age (Twitter). 'Telling Your Story' (Vimeo/You Tube) and Podcasting (Posterous).
3:30 pm Open Q and A, Discussion and Resources and upcoming events
4:00 pm Closing Prayer